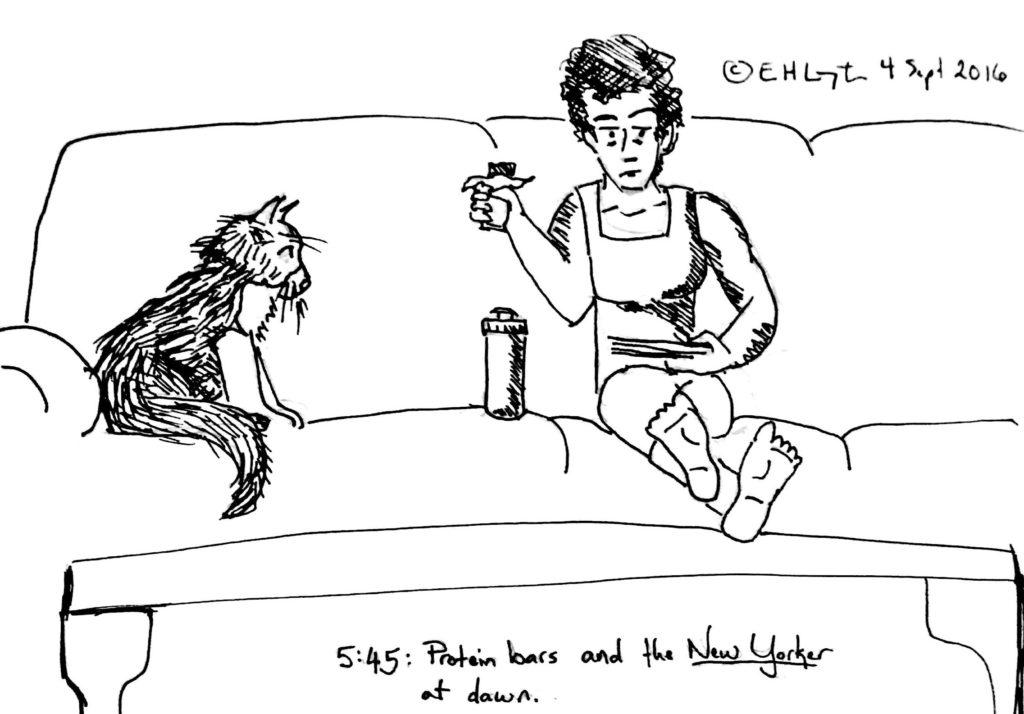 This comic panel is the result of me 1) drawing a seven-panel comic about a race, 2) inking the first four, and then 3) deciding they were lame and this was the only salvageable one. I've actually done a bunch of comics lately, then discarded them because not funny. Maybe because the looming election is taking up such a large place in my thoughts. We'll see how soon I can get my act together.
Here are all the races I've done since August, in brief:
Madison Mini Marathon (13.1 mi). Normally I wouldn't do this race, but a coworker asked if I wanted to run it with him. He did it in 1:30ish. I did 2:07:22. First race back after being off for more than a month for a poorly diagnosed IT band-related injury. 93/256 in my age group.
Safe Harbor Labor Day Dash (10k). Did it on impulse when I woke up in time to bike to the starting line. Took the first three miles to really warm up. 55:24. 26/56.
North Face Half Marathon (13.1 mi). Hilly course, wasn't feeling it. 2:18:19. 14/15.
Indian Lake Trail Race (12k). Supremely hilly course, and I ran it better than I'd ever done it before. 1:07:49. 17/32.
Fall 15k. Ran far, far harder than I expected I would. 1:19:14. 3rd in age group, 4th woman overall.
McCarthy Park Trail Race (18k). Spent a lot of the race trying to figure out how far 18 kilometers actually was (spoiler: about 11 miles). It was cold and rainy. 1:39:46, which although a good deal faster than the 18k I ran in June (Blue Mounds, 1:55:24), was only good enough for 9/14 in my age group, or slightly more hideously, 28 of 35 overall. Oh well.
With the exception of my exciting finish at the Fall 15k, I haven't been placing well (and annoyingly, the Fall 15k only did prizes for the top person in each AG rather than top 3). But my times have been good and my races have felt fairly strong.
I wanted to race five different distances this year. So far, I have raced one 5k, one 5 mile, two 10k, one 12k, one 15k, two 18k, one 20k, and four 13.1 mile races. This coming weekend, I am pacing a friend through about 18 miles of her 100 miler, and then the following weekend I'm doing a 28-ish mile trail race as the finale to my season. After that I may take it easy for a while.