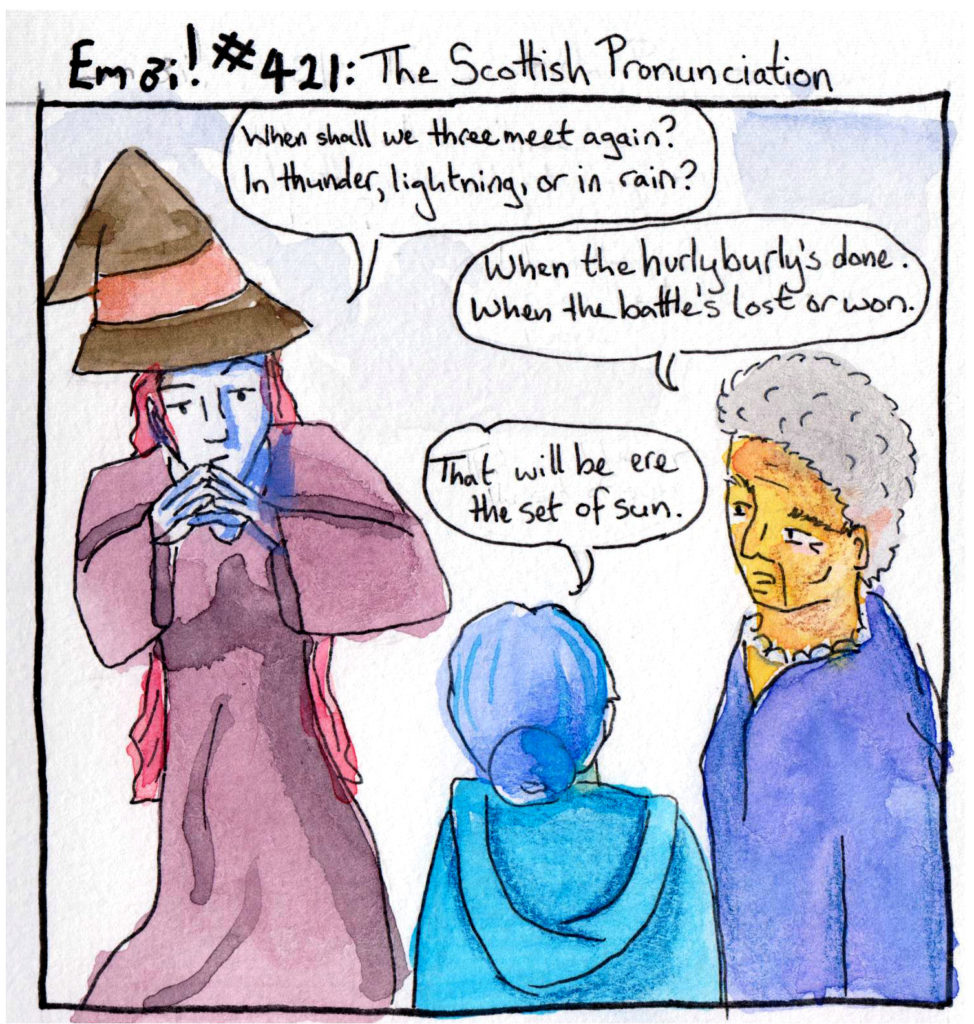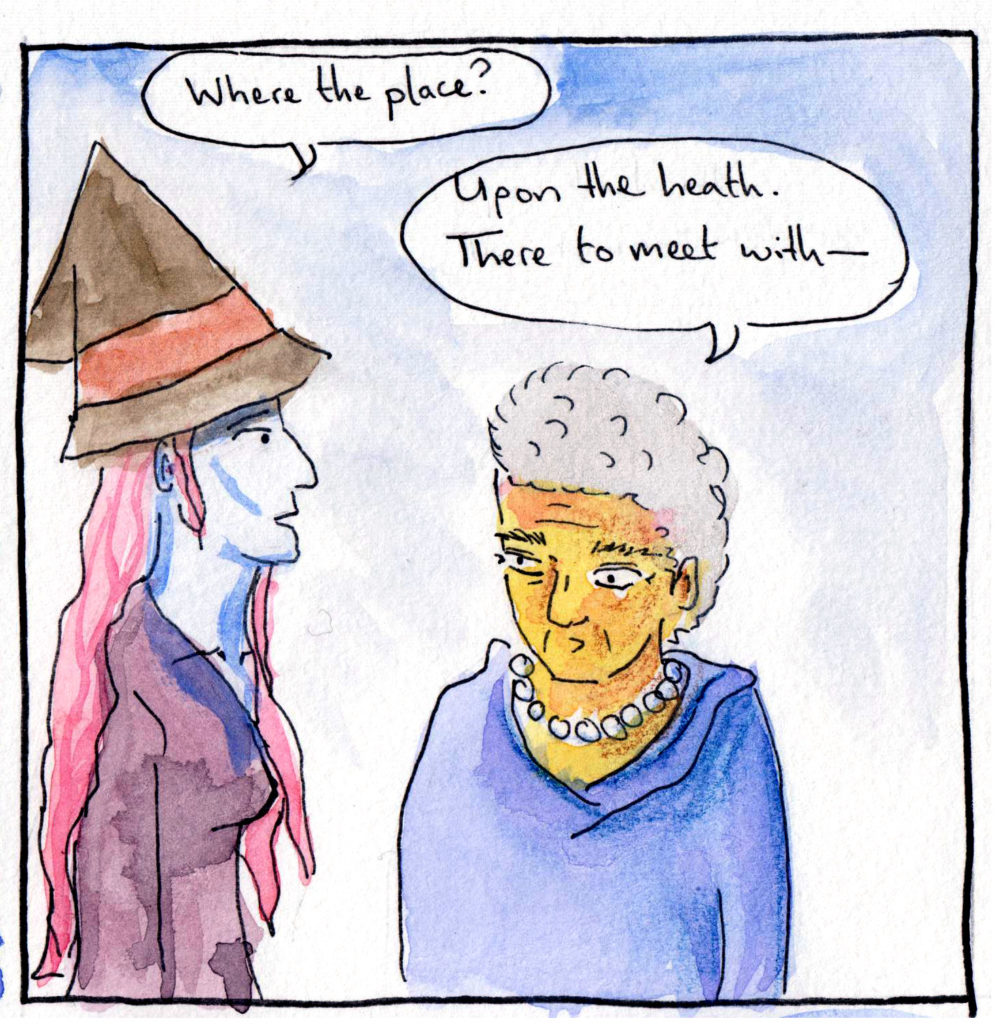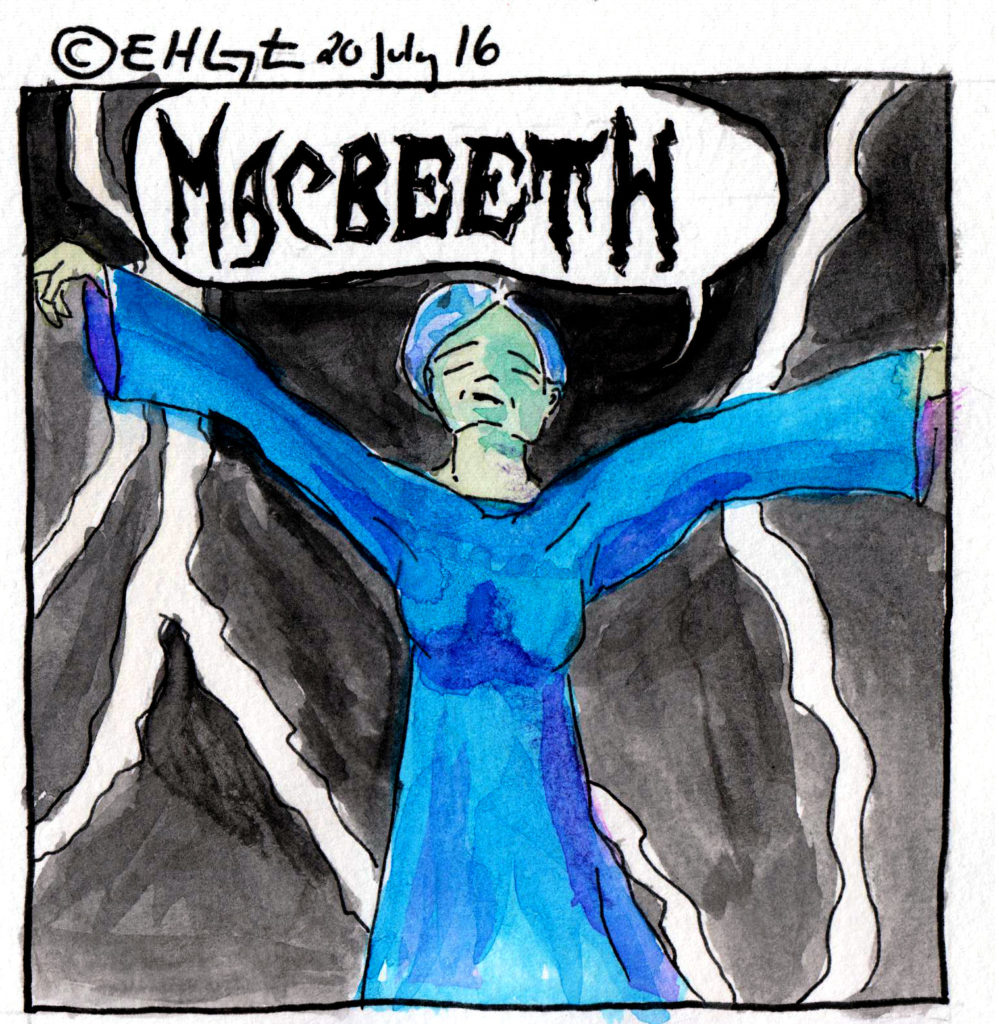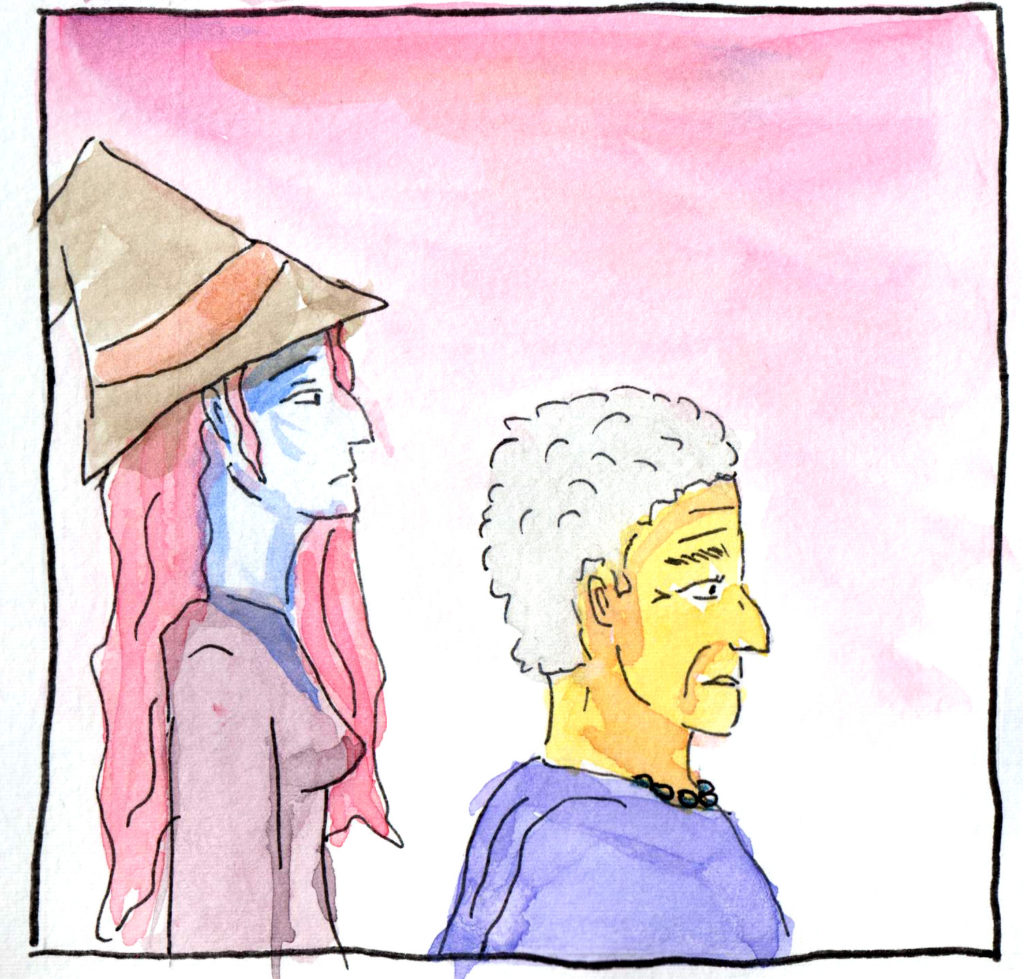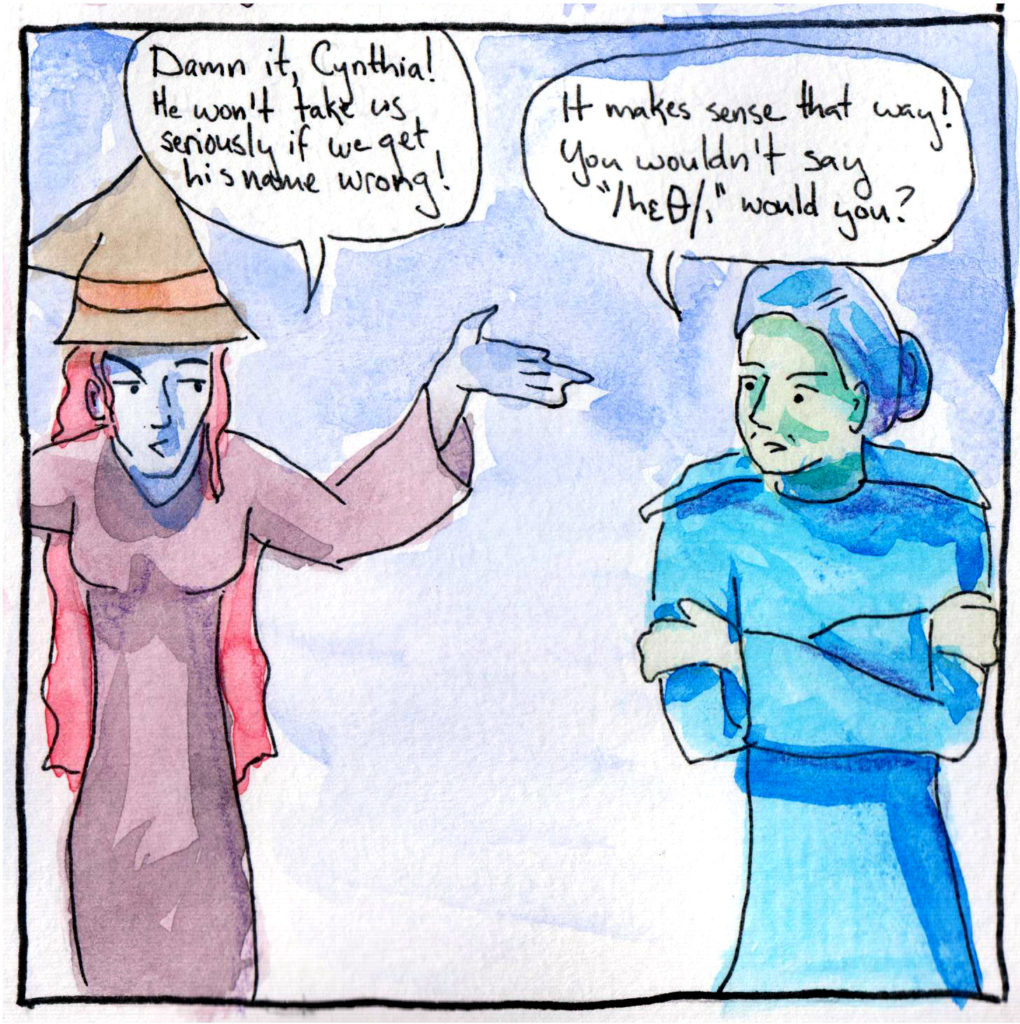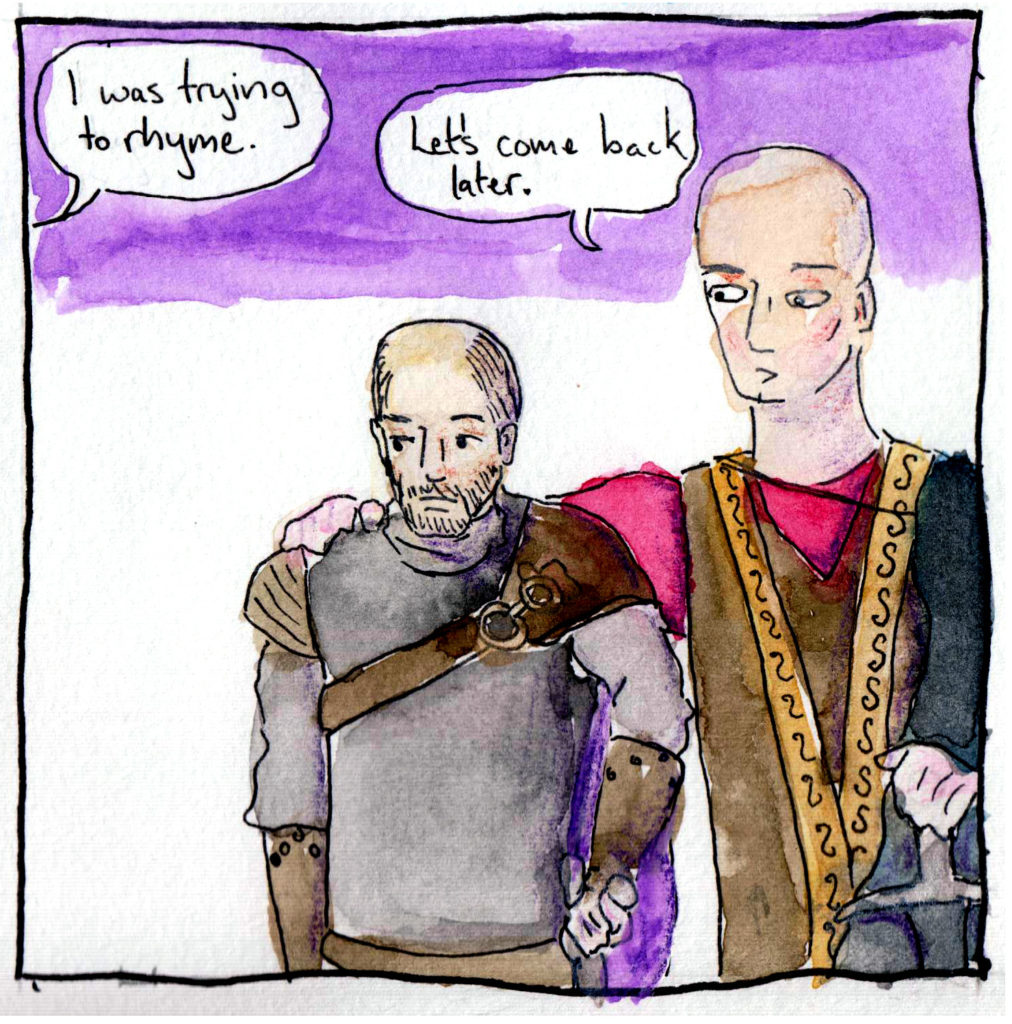 This particular line has always bothered me. I'm not even sure "Macbeth" and "heath" count as slant rhyme. They're just something that looks like a rhyme if you see them written.
I don't usually do two comics in a week, but Madison Shakespeare Company's Macbeth opens TONIGHT, so I wanted to get this up. If you are busy tonight, that's just as well–they're sold out. But they still have shows tomorrow at 18:30, Saturday at 14:00 and 18:30, and Sunday at 18:30. The shows are at the Edgewood College amphitheater and are bring-your-own-chair. $12 suggested donation. Check it out; there will be swords.
(Aside: Are there any words other than "amphitheater" in English where a "ph" appears but the letters are pronounced separately across a syllable boundary instead of as a pair? How odd.)
Anyway, the witches are Cynthia, Gladys, and Azaelia. Of course.
I was thinking about the appearance of supernatural entities in Macbeth and in Shakespeare's other works more broadly this morning, specifically the elements that would today probably be referred to as magical realism today, as they appear in otherwise realistic plays. In other words, the witches, the ghosts, and the dagger. In most productions of Macbeth, the show is typically produced with the witches and Banquo's ghost (played by the actor who played Banquo) on stage, but the dagger speech is done without an actual dagger. There are likely practical reasons for this–it's relatively easy to slop on some blood and send a glassy-eyed Banquo up to stand among the dinner guests, but it's a lot harder to get a dagger to appear and look reasonably good just hanging there, especially when a show is being done en plein air, as this one is. But this creates a curious dichotomy–the dagger can be conceived of as being just Macbeth's hallucination (he is under a lot of stress), while the witches and Banquo's ghost are there in a more objective way. This brings a consistency to the behavior of the ghosts of Banquo and that of old Hamlet in his eponymous play; both seem to wander as they wish and appear only to whom they wish (for example, Horatio and the other guards see old Hamlet's ghost, but later Gertrude does not).
We'll file this under PR2823.W5 L86 2016, for English literature–English renaissance (1500-1640)–The drama–Individual authors–Shakespeare, William–Separate works–Macbeth–Criticism.