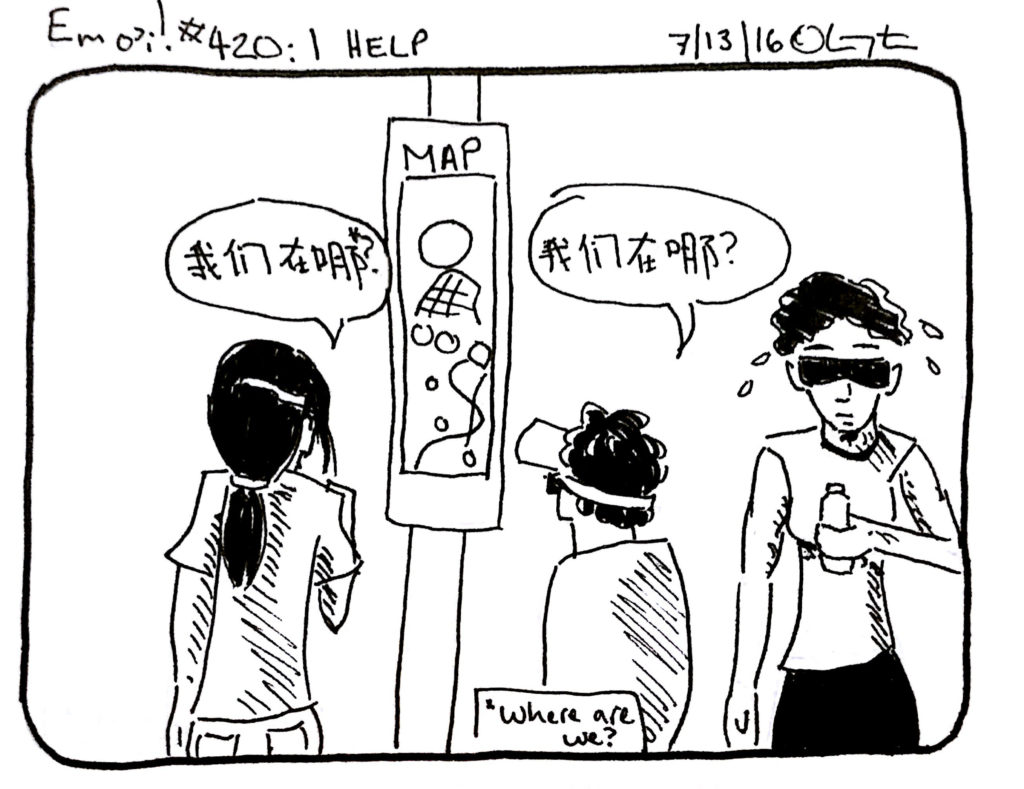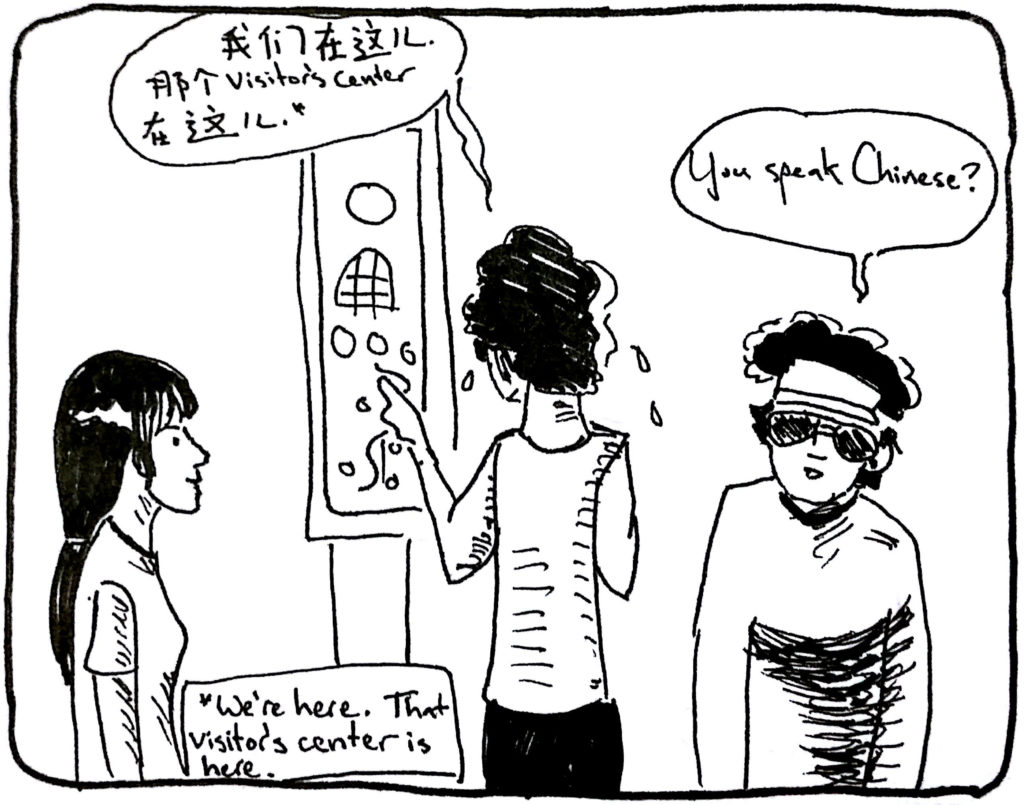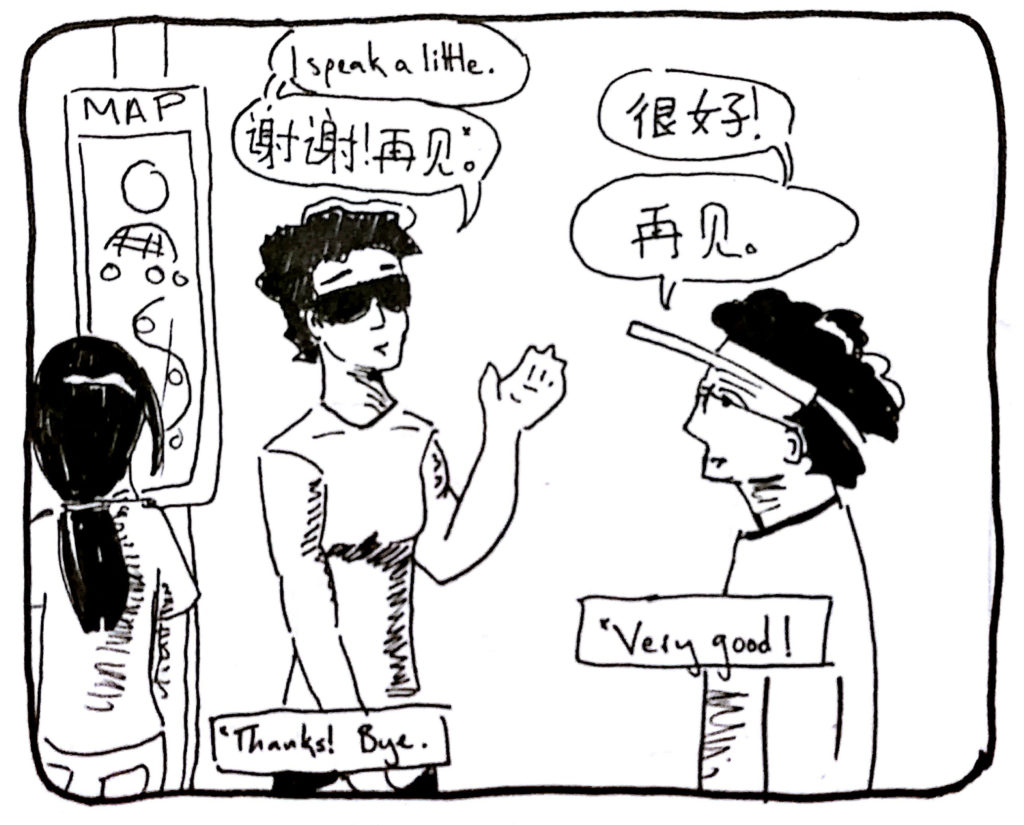 If you follow my Instagram (or if you are one of the myriad people I've chattered at in the last week and a half), you have probably guessed that I spent a couple of days in Manhattan after my meetings last week. As part of this, I got to go for a run in Central Park, fulfilling a long-time dream. Several people warned me that the interior of the park has a lot of paths, and that it was easy to get lost, so when I saw a map (this was the only one I saw), I went over to have a look, and found myself in company with a number of other tourists. In my view, coming up behind people and unexpectedly knowing their language is probably the best part of knowing a second language. I have done this with Mandarin in a bunch of places, including a money-changing office on the border between Cambodia and Thailand and a cab in Singapore. This might be the first time it really came in handy in the US.
I should note that despite the best efforts of my long-suffering teachers, I still speak with a strong Beijing accent (these tourists had a more refined speech sensibility). 对不起, 我的朋友!
Anyway, the map in the photo is a rough approximation of what Central Park looks like in my mind. The big circle is the Jackie Kennedy Onassis Reservoir, which is about 1.58 miles in circumference (I ran one lap) and in which I think I saw a merganser (a weird-looking diving duck). The thing that looks like a bird's nest is the Ramble. I first encountered the Ramble in the play Angels in America, which mentioned it as a place where gay men meet to have anonymous sex.[1] The sign at the entry didn't mention that (surprisingly!) and instead described it as a place for bird-watching. I thought it might be a nice place to run some trails, but I was worried that I would get lost and freak out my cousin. Or interrupt something awkward. So I didn't go in. But it was very pretty. Apparently, when you are at the Bethesda angel (which also plays a major role in Angels) looking north, you are seeing the rambles across the lake.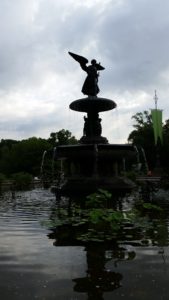 I didn't get to spend nearly enough time in Central Park, truth be told, even though I did nearly nine miles that morning (so seven in the actual park). Later, my cousin and I power-walked through on our way from the Met to Lincoln Center and I got to see the John Lennon tribute in the area called Strawberry Fields, complete with unwashed guy playing guitar.
I could keep writing about New York for ages, because I went to so many areas and my cousin just knows a ton about the city, so now I know a ton about the city. But it's getting late, so I will bring this to a close.
We'll file the comic under P118.2 L86 2016, for Philology. Linguistics–Language. Linguistic theory. Comparative grammar–Philosophy, origin, etc. of language–Language acquisition–Second language acquisition.
If you normally access this blog through the pretensesoup.com domain name, I should have forwarding fixed on that in a day or two, so you will be able to find the new blog whichever URL you prefer.
—
[1] According to Wikipedia, they have been used for this purpose since 1920.