True story. Hal sleeps relatively well, but often wakes up between 5-5:30, or about an hour before I'd like him to be up. Most of the time when this happens, I put him back down in the guest room downstairs after a bottle, just so any comments he has on his situation won't disturb B. Then I lie down on the sofa. And the cat…goes a little nuts. For some reason, he really likes to sit on people's chests. Preferably with at least one foot on their windpipes. And he weighs fourteen pounds.
We'll file the comic under SF446.5 L86 2018, for Animal culture–Pets–Cats–Behavior.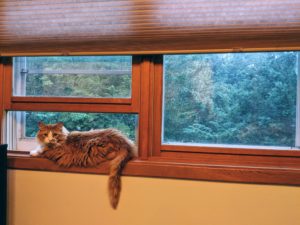 I ran my first marathon ten years ago this fall. (Fun fact: my first date with B was the evening of the day I did my last 20 miler for that race.) That year, I finished the Twin Cities marathon in 4:41:10. It rained for 90% of the race and I think I swore I'd never do another one. (Since then, I have run at least fourteen other races of 26.2 miles or longer; actually, I think there might be others? This number was reconstructed using various results websites.) My road marathon PR is 3:59:59 (set at Lakefront in 2012) and my road 50k PR is 4:57:58 (set at the MadCity 50k in 2011); it's difficult to give a number as a trail event PR because trails have really different conditions that make them hard to compare. This past weekend, at the Endurance Challenge WI, I ran my first marathon in almost two years—I had run a trail ultra of about 29 miles in November 2016, and then spent the rest of 2017 pregnant and recovering from pregnancy. This means that a lot of my life over the last decade has been spent preparing for marathons, planning my various events in order to get ready for a marathon, and recovering from marathons. (Or sometimes getting injured two weeks before my marathon and not running it. Boo, 2010.)
And I just want to say: while I have gone into events with some half-assed training, I have never signed up for a race knowing that I was going to half-ass my training as much as I did this time (and knew that I was likely to do).
Rather than recounting the race in blow-by-blow detail, which I think would be boring, let's try an exciting Q-and-A format.
Q. I understand you have a one-year old. How does that effect your training?
A. He effects it both more and less than I expected pre-baby. On a day-to-day basis, I often run him to daycare (about 8 miles round-trip), plus a lunch or post-work run with B (anywhere from 3–7 miles), giving me midweek totals of 8–15 miles per day, and anywhere from 50–60 miles per week. This is on par with or a bit more than what I was running before I got pregnant. On the flip side, my long runs on Saturdays have suffered from a lack of sleep and drive. Rather than training to 18–20, which is normal for a marathon, my longest single run was 16.4 miles. In my defense, I planned to do a 23-miler, but there was some major flooding in Dane County that led to its cancellation. But I didn't make too much of an effort to replace it. I also didn't do much trail running since June, because of a bad poison ivy experience and mosquitoes and the flooding and, you know, going to brunch instead.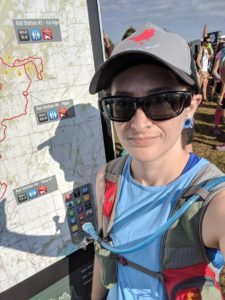 Q. Given that, how happy are you with your results?
A. I am. All things considered, I think I was in shape for about a 4:10ish road marathon. Maybe 4 hours if the weather was good and I found someone to pace off. Instead, I ran a 5:07 trail marathon, about 37 minutes slower than the last time I ran this course (2014). But that said, my goal pace (4:30) was picked because I wanted to place in the top five in my age group, and I placed third (ninth woman overall!), so I'm actually pretty pleased with that (although if I'd run a 4:30 again, I would have won outright as first overall woman). There are also the conditions to consider: the race had somewhere between 1,300–1,800 feet of climbing (my Garmin gave the first number, Strava the second); many of the ascents (and descents) were covered with a scree that made climbing them at a run quite difficult; the weather topped out at about 82 degrees and humid AF, following directly on about a two-week stretch of cooler weather during which I rather lost my heat acclimation.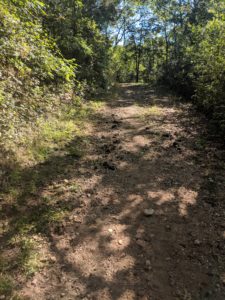 Q. Did you learn any important lessons?
A. Yes. It's important to plan for both the race and the ride home. I had to drive myself home, and my blood sugar started to crash around the time I got back to the car. I stopped at a gas station to pick up a coffee and a chocolate milk, and wound up sitting on the floor waiting for the people buying a million lottery tickets in line ahead of me to get done so I could check out. In a more ideal world, I would have ridden home with someone who had their shit a bit more together.
Pursuant to that, I think my nutrition strategy was generally pretty good (it was: grab something to eat at each aid station plus bring a gel to eat about two miles before the next one, and salt tabs at 1.5 hours, 2.5 hrs, and 3.5 hrs), but I waited until mile 6 to eat anything for the first time, and I think I should have had a gel a bit earlier. Also, it's better to grab something with a bit of protein/fat (peanut butter) than just to stuff a bunch of M&Ms in your mouth. Also, I ran out of water at mile 16 with the next aid station at mile 18. That was gnarly. Wish I'd planned better for that.
Also, finally, I learned (again) that time on your feet does more than just prepare your muscles for the race–it prepares you for the pain. Like just the feeling of your socks on your feet can hurt after thirteen or fourteen miles of rough terrain.
Q. Any final thoughts about racing? 
A. I've had a tough time getting my racing mojo back since Hal's birth. Primarily because if he's going to have a bad night, it will usually be a Friday night (it's like he KNOWS), and I often have wound up on the starting line wishing I had more flexibility to shorten my run or move the time up. Recently I've realized that just running races to run them (or to get a t-shirt I guess) is not exciting to me. This marathon, with the competition aspect, was exciting. So next season, I think I may try to structure my season more like a pro might, with an A race, a couple of B/C races as prep, and then most of my time spent doing my own thing. (Full disclosure, smart people have been telling me to do this for a long time. I just learn slowly.) Going into the marathon, I had some plans to use it as a springboard for something bigger in the spring, but I'm not sure I'm really feeling that now. Twenty-six miles is a lot when it's hot and you're undertrained. Maybe I shouldn't push my luck. (I'm sure I will though. I seem to crave challenges. We'll see.)