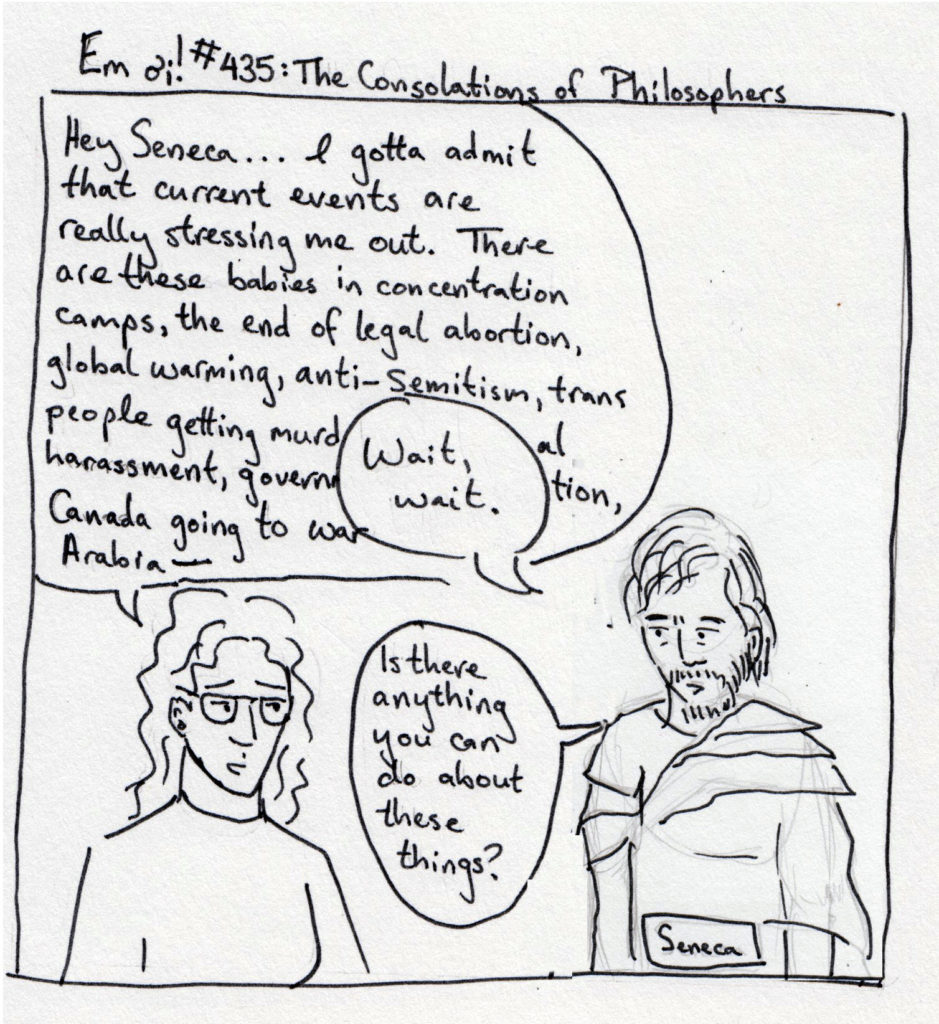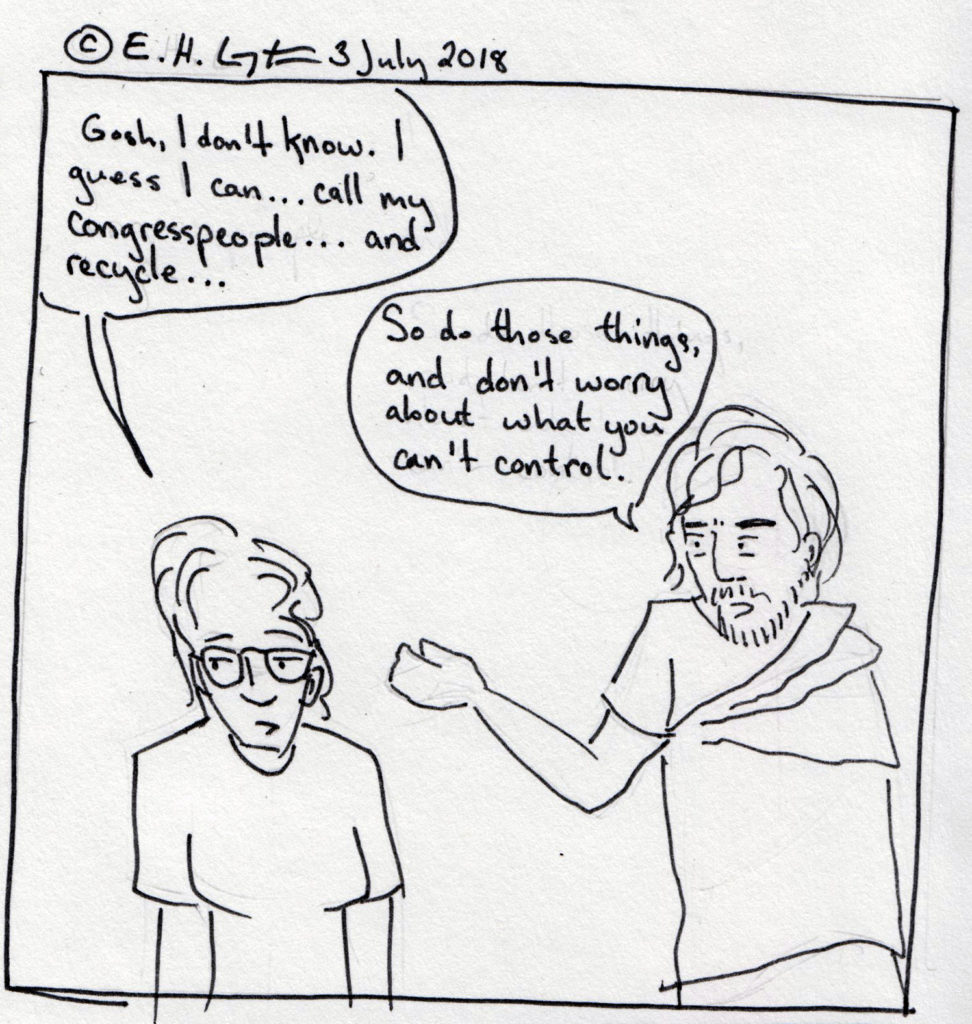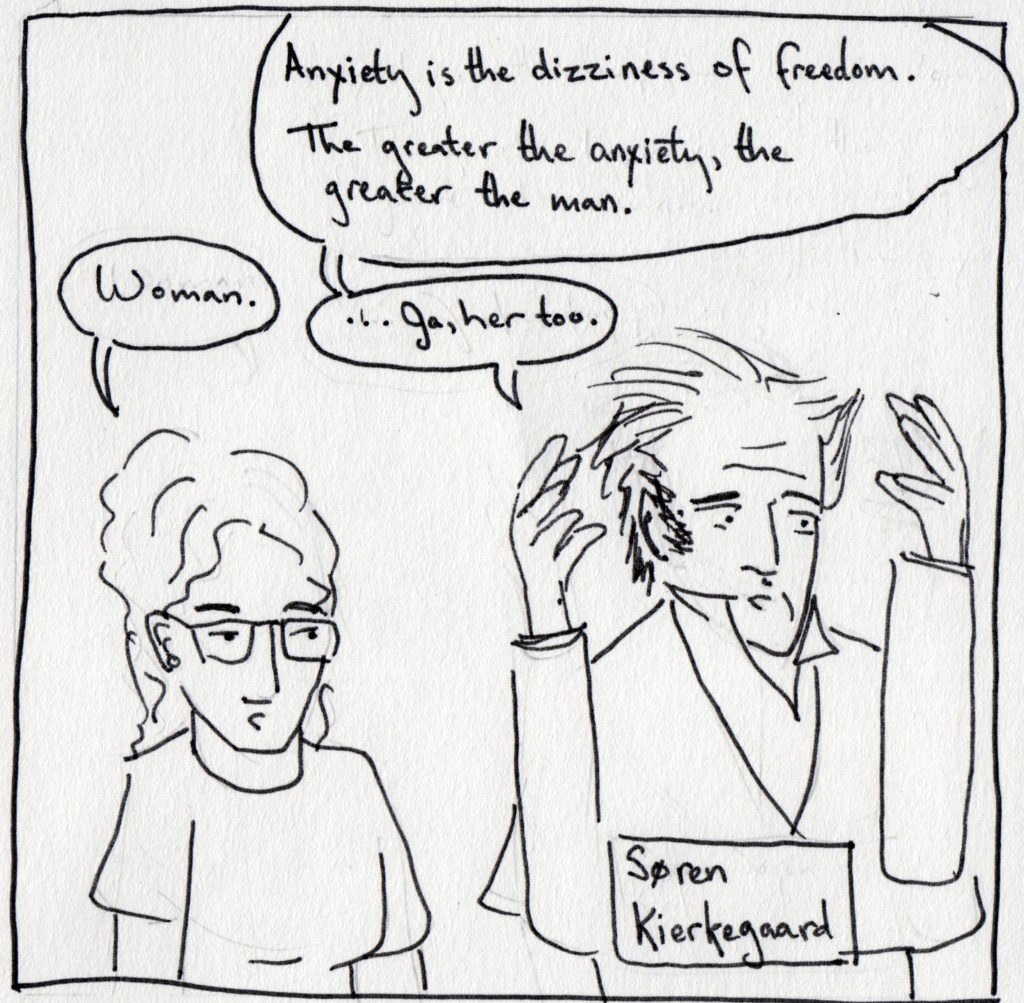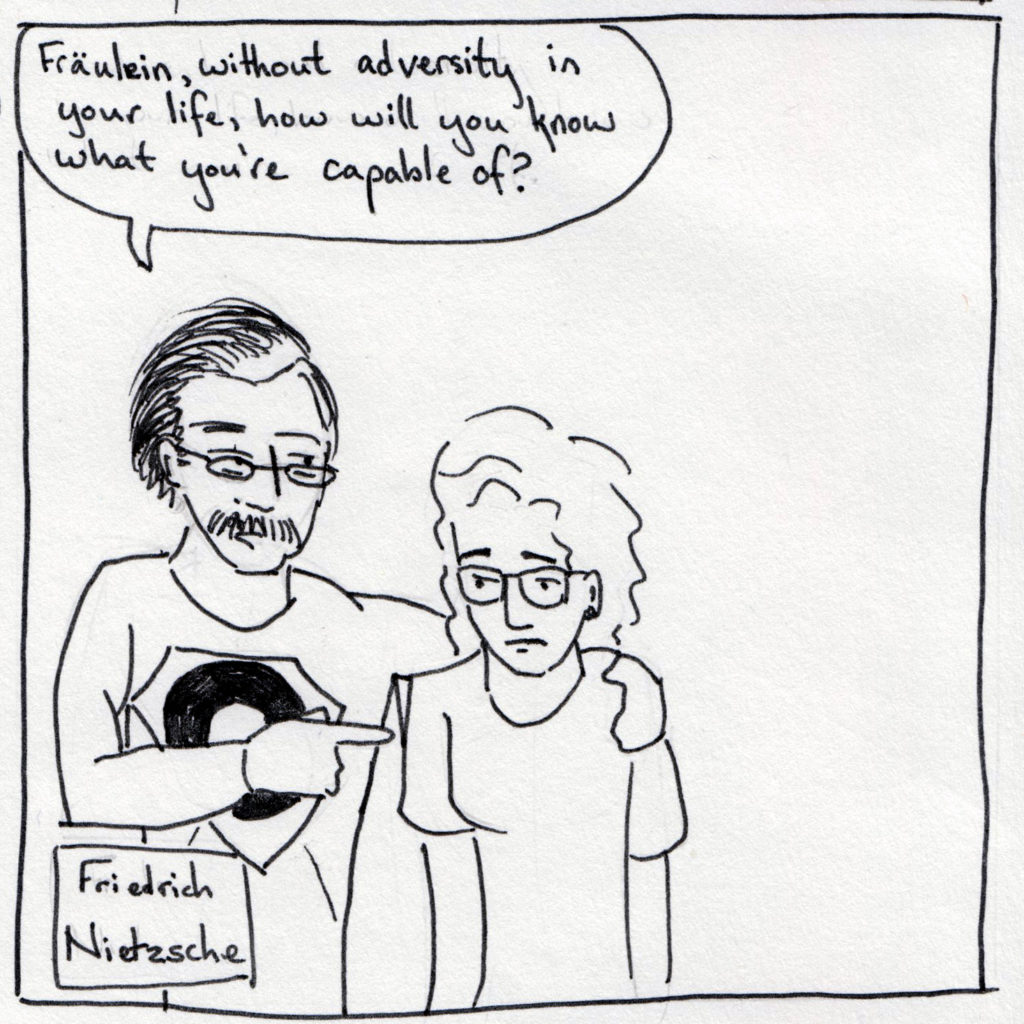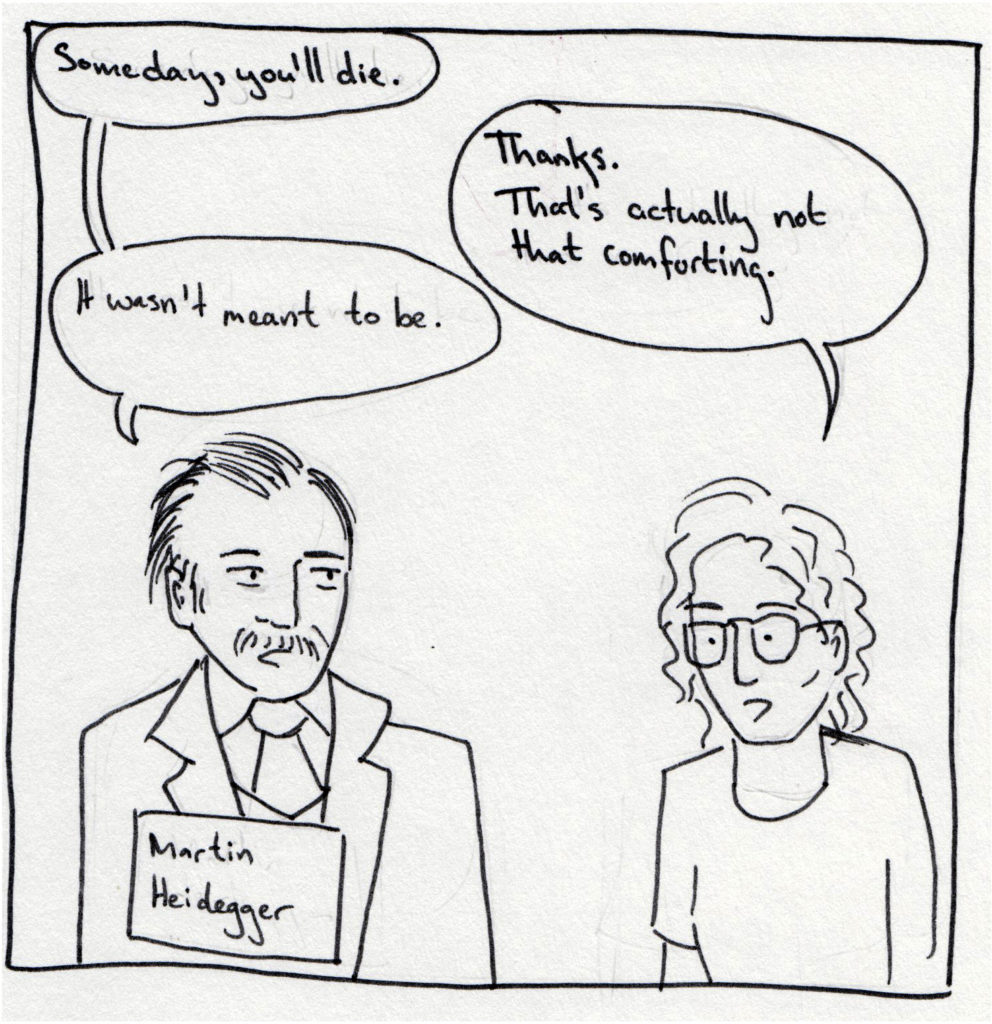 It turns out that there are now Em oi-canonical ways to draw some philosophers, since they have appeared a few times in the comic:
Also it turns out I have drawn a lot of comics about anxiety. Hmm. This one will be filed under B808.63 L86 2018, for Philosophy  (General)–Modern (1450/1600-)–Special topics and schools of philosophy–Anxiety.  (If you're just here for the philosophy, feel free to peace out here.)
As I was scanning this comic, I was wondering what I was going to write for my little essay here. The time between initially writing this and finishing it was so long that if I initially had any additional thoughts, they have now gone away. But in the meantime, it is young Hal's birthday!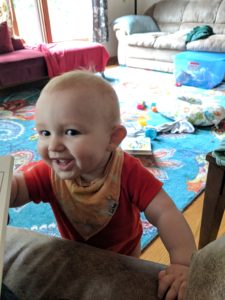 Isn't he adorable?
Anyway, I have been trying to think of some things about having a kid that I wish I had known before he was born. Honestly, most of the things that are coming to mind are not necessarily things you can know beforehand. Like no matter how good you are at putting your baby to bed, you've only learned how to put your baby to bed–you can't know ahead of time how to do it, because your baby has his own personality and likes and dislikes, and you can't help anyone else, because all babies are pretty different. But here we go.
1. Be careful when sneezing after a c-section. I don't know why, but although I started back to running about five weeks post-op and was fine, I pulled a muscle or something sneezing just before six weeks. That was weird. And uncomfortable. I also managed to pull a muscle in my trapezius muscle while lifting the baby, and that hurt on and off for weeks. And occasionally my wrist and thumb have been angry. So maybe I should say just be careful generally–lifting a tiny cannonball four hundred times a day turns out to do a number on you. It wasn't until I stopped pumping that my body actually started to feel like it was totally normal again (and that lasted for a few days before I started training for a marathon, so, uh).
2. Convert distances from kilometers to miles before you sign up for a race and don't sign up for a 10 miler eight weeks after your c-section. This goes without saying, I think. I think I did the actual signing up in early September (so two or three weeks post-op), meaning I was off any drugs…so we'll blame this on sleep deprivation.
3. Emotional labor is for suckers. Emotional labor is the process of using your emotions in order to provoke or prevent a particular emotional response from people. And it's just not worth it–you can't tell someone news that will upset them in some perfect way so as not to upset them. You cannot hint at things you'd like people to do. Don't say, "Um, do you think it's time for the baby to take a nap?" Say, "I need to put him down for a nap now." Don't say, "Well, it was nice of you to come." Say, "Get the fuck out of my house now, I'm tired." (J/k, maybe don't say that.)
4. You will become the expert on your baby. This is the best advice I got before Hal was born (it came from my sister-in-law and friend Claire Wahmanholm, doctor of poetry). So when you figure it out, feel free to (assertively, if need be) show the various grandparents/sitters how to put your baby down for a nap, feed him the way he likes, whatever. Do remember that over time, they will develop their own relationships with him and figure out what works for them in that context, but at the beginning they may need to be told.
5. As my mom put it, women don't largely get to debrief after giving birth. I'm not a trauma theorist, but it doesn't take a ton of psych to realize that when you go around talking to people about their kids and birth stories, you'll sometimes get this sense that they are retelling their story in a way that is mean to make them feel better about whatever happened to them. Similarly, people get very insistent on the things they can control, like what they feed their infant or what kind of diapers they use, because it makes them feel better about all the millions of things they can't control. This can lead to people saying things that sometimes come off as quite shirty about how their "thing" (exclusive breastfeeding for two years, cloth diapering, attachment parenting, whatever; not vaccinating is one of the more extreme and harmful examples of this) is so much better than whatever else. The best thing to do is not get involved.
6. The reason people fall into more sexist roles after having a baby is that the only people anyone has watched parent up close is their own parents, and thirty years ago it was a lot less typical for men to take on 50% of the parenting. If this works for you, fine. (It doesn't work for me.) But at least be conscious about what you're agreeing to.
7. Like most experiences, it's hard to appreciate how amazing having a baby is until you're not inside the experience anymore. Just smile as best you can at the old lady who corners you at the cafe. And when you see other people who are earlier in the process than you are, just reassure them that it gets better.
8. It is okay to buy some earplugs and wear them while you're doing time holding a fussy/colicky infant. You'll be more relaxed, and everyone will be happier because of that.
9. When in doubt, make art. Any type, doesn't matter. It'll make things better.