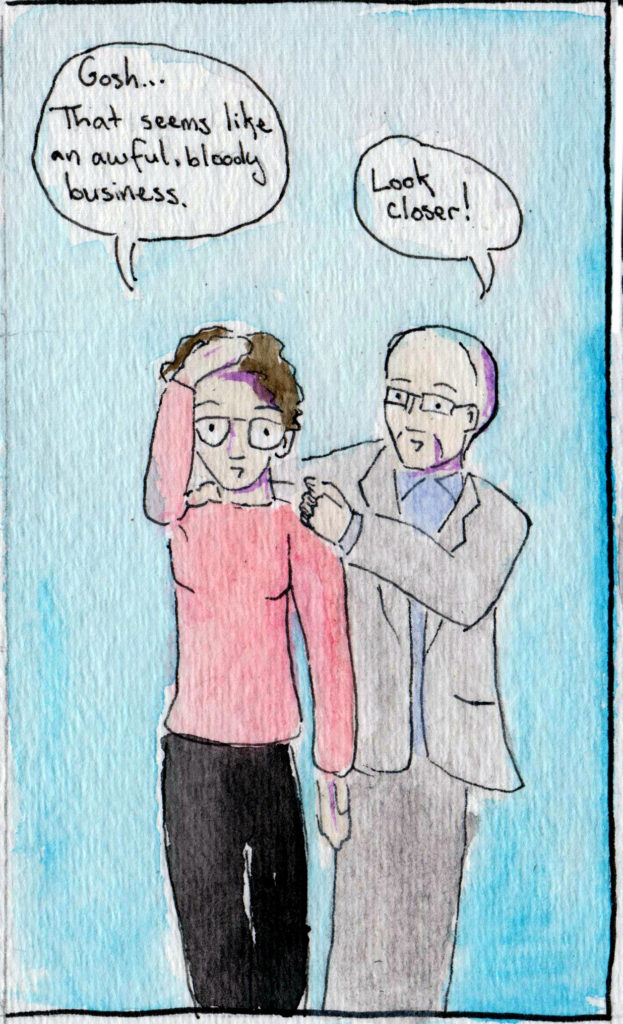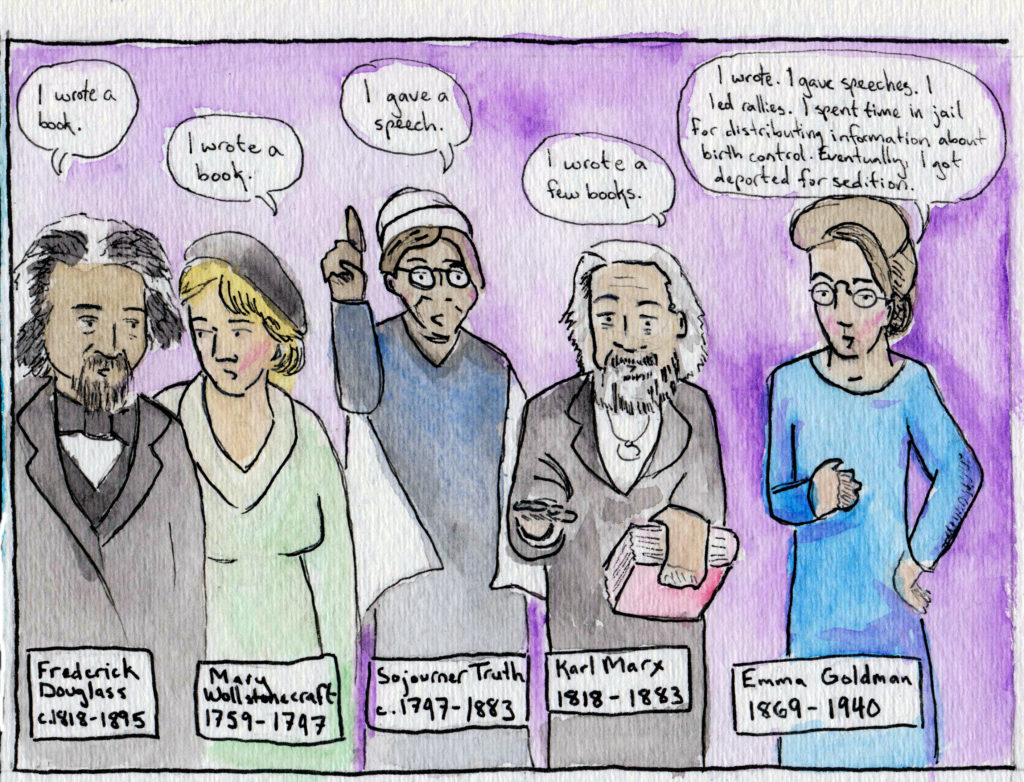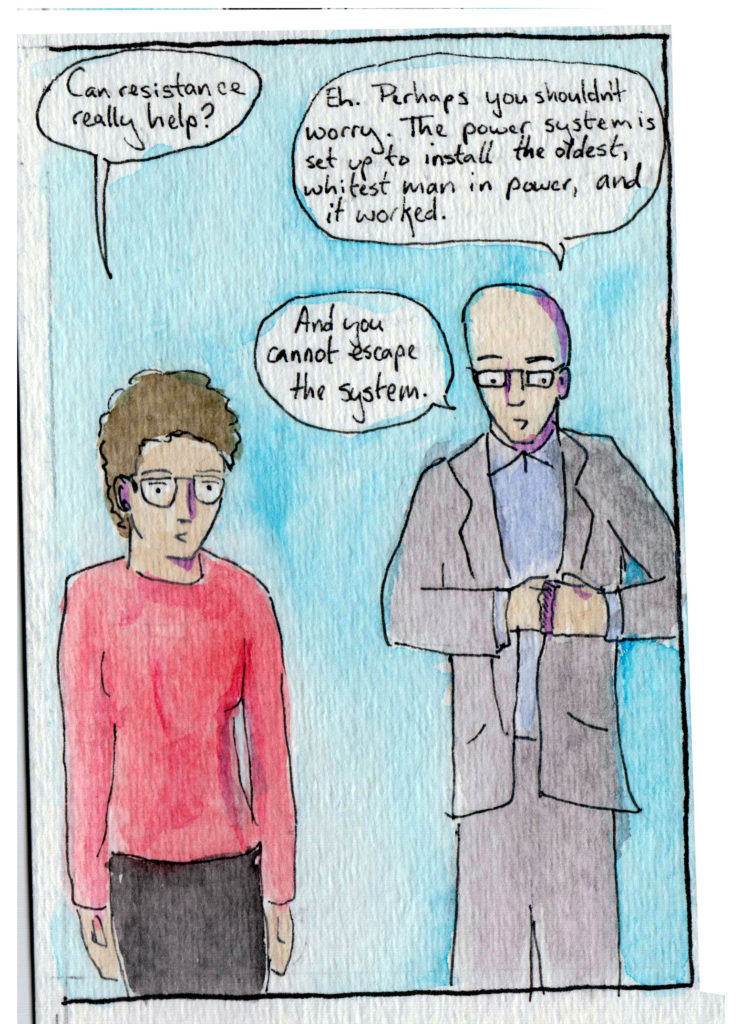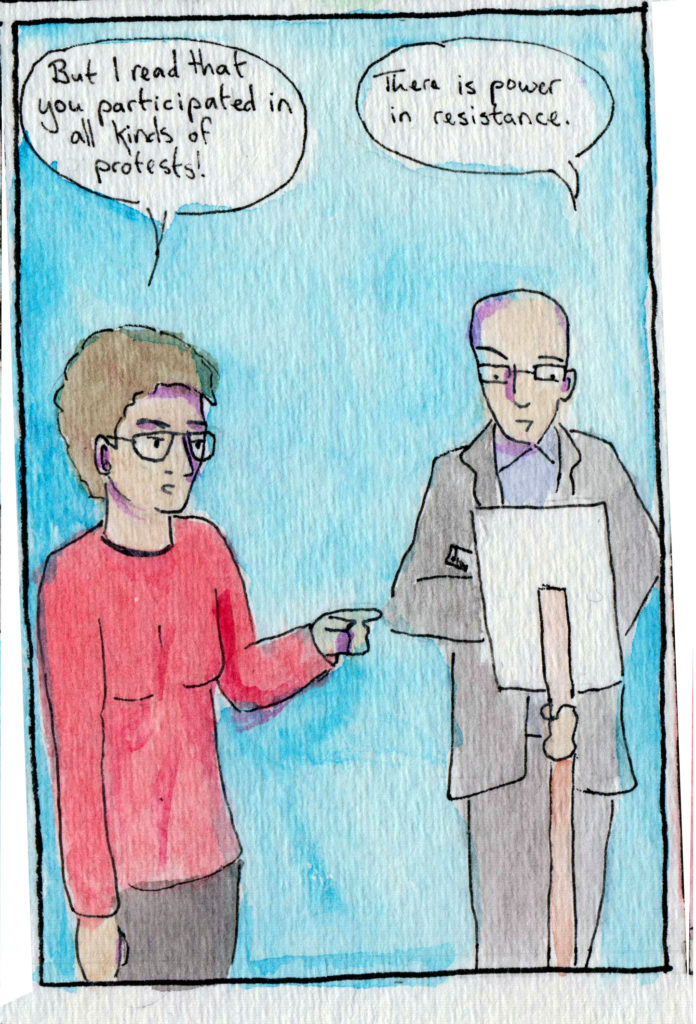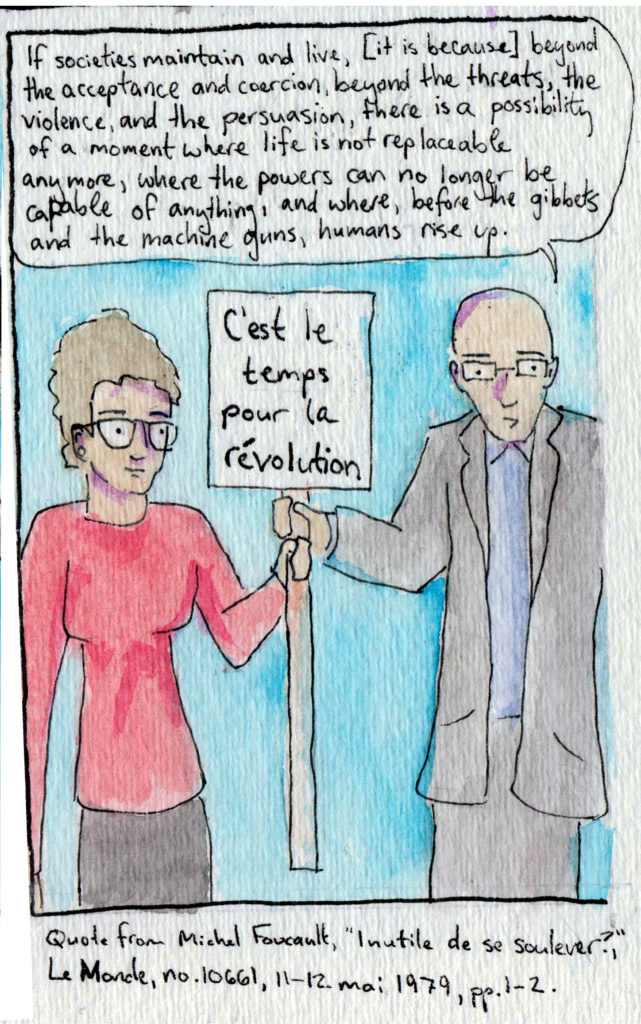 This comic was begun in December and finished about ten minutes ago. It has taken forever. In real life, it's 10″ x 16″; it was originally intended for a print publication, so that's why. The top panel would have looked like this: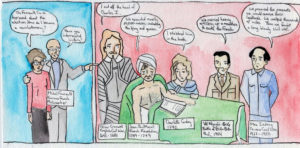 The Foucault essay can be seen here in French and here in English. The translation above is my own. After significant discussion, I decided to translate "les hommes se soulèvent" as "humans rise up" rather than "men rise up," even though the latter is more accurate. I made this decision for two reasons: one, I think given other things I've read that Foucault said I think he recognized that revolutionaries were both male and female–stylistically, it was very typical to assume the masculine when he wrote this, so I'm not convinced it's an exclusive term; and two, because I initially envisioned this being published in a feminist zine for the upcoming Women's March on Washington, and I thought that using a more gender-neutral term would go over better. A bit self-serving, I realize. But the whole essay is to some extent Foucault's last middle finger toward his critics following his controversial coverage (and support of) the Iranian revolution, so perhaps let us not get into what is self-serving to whom. The second-to-last panel Foucault speech is from The History of Sexuality volume 1, p. 95 (Vintage Books edition, published in 1995). What he actually says is this:
Where there is power, there is resistance, and yet, or rather consequently, this resistance is never in a position of exteriority in relation to power. […] [Power relationships'] existence depends on a multiplicity of points of resistance … [that are] present everywhere in the power network.
(It goes on. The whole section is recommended.) Depending on where you stand, this is either good or bad. Either he's saying that resistance always exists in a diffuse way, and since the would-be revolutionaries have access to power they can coalesce their resistance in order to affect change, OR he's saying, as the Who would put it, "Meet the new boss / Same as the old boss." You can never be outside of the system because everything is a part of the system.
At any rate, I did not come to lecture, just to voice some thoughts I've had recently.
This comic was actually pretty entertaining for me, despite the amount of trouble it has caused. Drawing so many historical personages was fun. The hardest to draw was Mao, since thanks to Andy Warhol, his face is pretty well-known (at least until we get Sojourner Truth on the new $10 bill). Also, in case you were wondering, it turns out that Sojourner Truth was 6′ tall, while Karl Marx was only 5′ 9″. Also, I regret that I had to omit so many august personages–the original draft of this comic included, among others, Alexander Hamilton, Sun Yat-Sen, VI Lenin, and Corazon Aquino. Here's a fun clip of Jeremy Clarkson hating on Cromwell from QI.
We'll file this under JC491 L86 2017, for Political theory. The state. Theories of the state–Forms of the state–Change of form of the state. Political change–Revolutions.
I'll leave you with this final quote from Travesties, by Tom Stoppard:
I learned three things in Zurich during the war. I wrote them down. Firstly, you're either a revolutionary or you're not, and if you're not you might as well be an artist as anything else. Secondly, if you can't be an artist, you might as well be a revolutionary… I forget the third thing.