My blog got a bunch of hits the day after the election, as though someone was hoping I'd have something to say. And– I don't know that I have anything to add to the ongoing fury, but I do have one observation.
In 2008, I went to an Obama rally in Philadelphia. It was October, not long before the election, and after eight years of Bush I didn't feel especially optimistic that he was going to be able to bring us the change he was promising. My friends and I walked a long way through Philly to get to the rally, and then waited in line for a long time.
I live in a liberal area, but also a very, very white area. So while I knew Madisonians were enamored of Obama, it wasn't quite like it was in Philly. As we waited under the hot noontime sun, I looked at an array of t-shirts featuring the senator dunking, the senator in African colors, the senator looking senatorial in that iconic HOPE image, Obama as Lincoln, Obama as a Russian comrade. They were different aspects of the man, different avatars. I began, dimly, to realize that all of these were ways in which the community–of democrats, but also of African Americans–were projecting themselves onto the man who was shortly to become president, convincing themselves that he was one of them, that his concerns were the same as theirs. This is like the imagined communities that Benedict Anderson wrote about. People imagine themselves into the political community of the nation; regardless of what the politician actually says, they find the ways in which it's relevant to their lives.
It wasn't until the current election and the selection of Hillary Clinton for the democratic nominee that I understood what was going on. The job of a leader is to lead, but to really inspire the populace, a leader has to provide a somewhat blank canvas for people to project something of themselves onto. I realized this even as I was doing it myself, feeling moved and significant to be voting for the first-ever woman who had a ghost of a chance of winning. I even own a magnificent t-shirt similar to those I saw back in 2008; this one features Hillary as George Washington and Bill as Martha.
The flip side of this, of course, is that we project our fears onto the opposition. Notwithstanding the fact that our current president elect has done and said some terrible things (for which, G-d willing, he'll answer someday), I think the current hysteria in the liberal press is a bit overly dramatic. Trump is not the Antichrist; he's just some guy. Are bad things happening? Yes. There have been some hate crimes committed this week. But those are still illegal. Let's not lose sight of this fact: we are not living in a dictatorship. This isn't the Philippines, people can't just walk into your house and shoot you for free right now. He is not going to dismantle every liberal advance of the last fifty years. I don't think he can. Is he going to be embarrassing and tone-deaf? Yes. Is he going to start a nuclear war? I don't believe it.
We've had good presidents and bad presidents, and the country has always survived them. In fact, the country has pretty consistently alternated between liberal and conservative leadership for the last forty years at least. The majority of Americans don't make their decision based on much more than how they feel they're doing when they step in the voting booth.
We may not be happy with the results–those protesting are justified in doing so, in my opinion, and I think we need to abolish the electoral college–but running around shrieking (and reading five hundred think pieces about how this happened) is not going to help anything. Instead, try to be kind to each other, and continue to speak truth to power wherever you can, stand up for the downtrodden wherever it is necessary, and consider getting involved with local politics. If there's one thing I've learned from watching Parks and Recreation, it's that being an angry person at a local committee meeting can sway the motion of the wheels of power.
For the majority of voters, this was not a referendum on the state of the soul of the nation. It was two crappy politicians making half-believable promises. I desperately want to believe that it is not the case that 50% of the (voting) country is composed of racists, sexists, bigots, anti-Semites. They're just people who are frustrated with the current administration. I'm actually willing to place a bet that most of them did not vote against Clinton because she was a woman, or because they have some complex view that boils down to reasons why women cannot be president. If anything, the handful of liberals who have confessed, "I wasn't that happy with Hillary" is the reason for why she lost–she was inspiring to me, but a moderate neo-liberal isn't everyone's cup of tea, and a lot of them would just rather not make the effort to go vote for her. Hillary will always be president in my heart, and let me be clear–I cried when I realized she was going to lose–but the truth is, a lot of people think about the whole situation and shrug.
And that's all I have to say about that. Stop reading the news, you'll be happier. Get off social media and go outside. The moon is nearly full. Look at the stars and think about how small we all really are. And also this.
---
Okay, who wants to hear about pacing?
Last Saturday I joined my friend Sandy in Kettle Moraine State Park for 18.2 miles of fun after dark. For four and a half hours, we hiked, jogged, and occasionally fell down over wide trails that occasionally grew rocky and hard to navigate. The stars were magnificent, the temperature was chilly, and the woods are dark and terrifying.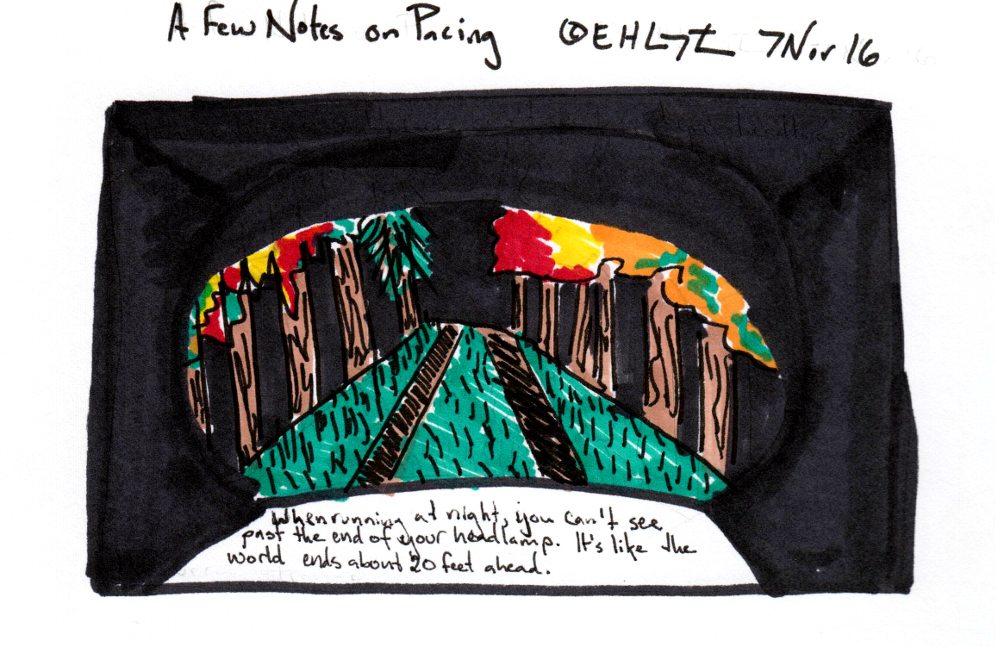 I tried not to let on to Sandy the tenor of my thoughts, but it's basically like being in every horror movie ever made. When you're pacing, the person you're running with has been running for 50+ miles, which puts one in an altered state of mind. It falls to the pacer to try to create reality for them, specifically by not introducing weird ideas about the terrible things that could just jump out of the woods at you.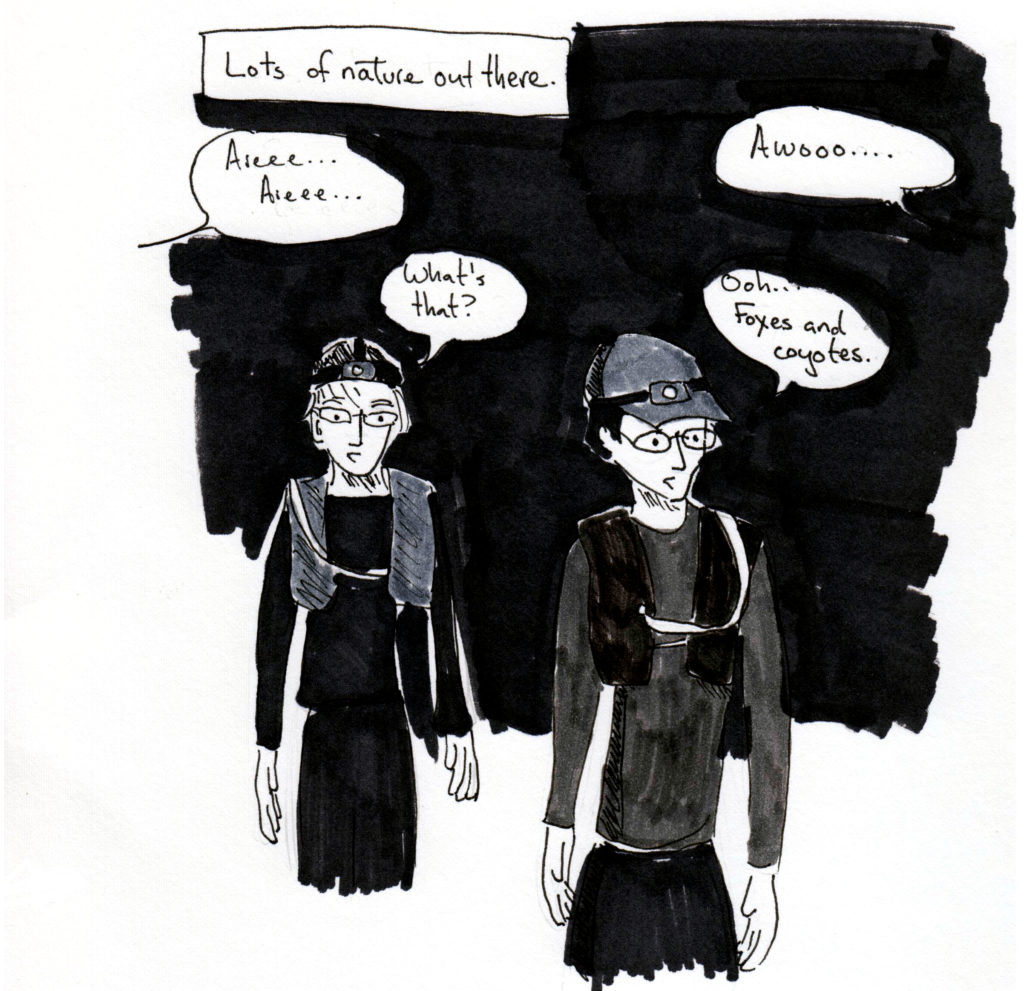 Foxes make noises that sound like screams. A whole bunch of foxes can sound like children screaming. It's a really weird thing to hear in the middle of the woods. Coyotes sound like you'd expect. And then we came around a bend and realized we could hear a sort of humming noise, like traffic at a distance. But we were in the middle of the woods out past Whitewater, not a spot known for heavy traffic patterns. In fact, when I looked at a map later on, I was fairly sure that we weren't even near the meagre one-lane road that ran past the park. I told her I thought it was traffic anyway, because all my other ideas about what it could be ranged from the outré to the mildly macabre.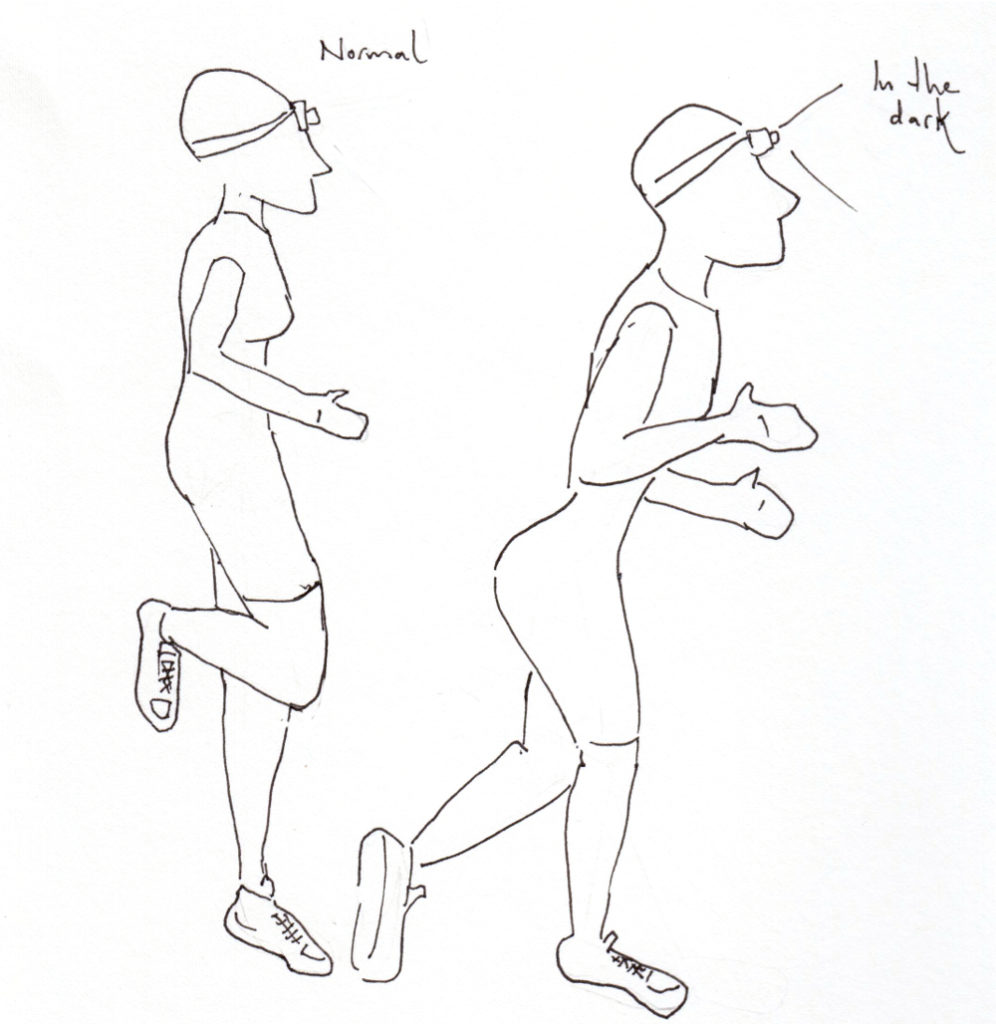 In the dark, it's hard to get clues from the environment in the way you normally would. For example, you can't see the horizon or in many cases tell if you're going up or down a gentle slope. Your internal proprioception can begin to fail and you find yourself running in all sorts of weird positions.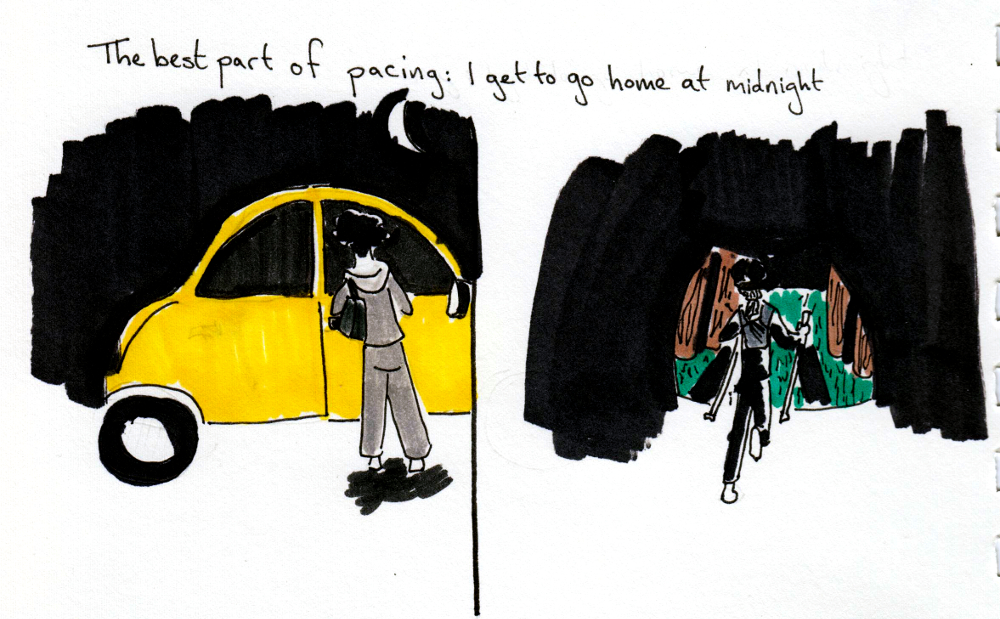 As I was leaving, Sandy got her hiking poles out and went off to spend the next seven hours hiking alone through the woods (and then another six hours with her next pacer). I am staggered by the amount of commitment and mental fortitude that an event like this requires. It feels superhuman. I shivered halfway home, eventually stopping to buy decaf coffee, chocolate milk, and cheesy popcorn at the only 24-hour gas station I could find. Then I stuffed popcorn into my mouth the rest of the way home. #noregrets
Occasionally I've been asked if I was going to do a longer ultra–something 50+ miles long. I always say "maybe." It's certainly daunting. I don't know if I'll ever feel up to it. Pacing for a 100-miler was awesome though. I'd totally do that again.
Tomorrow I'm off to the Richard Bong State Recreation Area to try and run 28-ish miles and not get shot by hunters. I am overly enthusiastic and under-trained. Should be fun!